Inspired Running: Dean Karnazes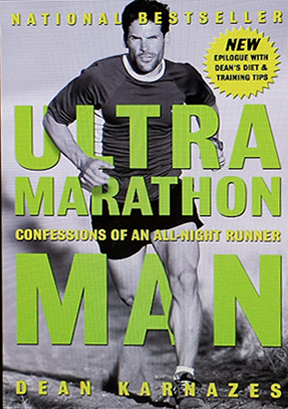 February 8, 2015

When I first began my research for this post on the top moments and/or runners in history, I realized that like many of their runs, this was not going to be an easy feat. First of all, making a choice is totally subjective. My top picks, may not be yours. Second, which top runners or moments in running history should I choose or over what period of time should I focus? I decided to search everyday people — people like you and I, who took up running for the fun of it, for a cause, or for their health. The man I chose could not be ignored for his passion, perseverance, pure endurance, strength and inspiration. Here is his story.

Dean Karnazes is an ultra marathoner, author, husband, and father. But long before Dean became any of these things, he was running - in kindergarten to and from school and at meets for his high school cross country team where they awarded him with the title "Most Inspirational" teammate.

However, he stopped running entirely in his mid-teens until, according to The Guardian, he experienced, "an epiphany on his 30th birthday. Gripped by a powerful desire to run once more, he set off into the night. After 15 years of no training, most of us would not have been physically capable of getting too far, but Karnazes did not stop until 30 miles later."

Since then, Karnazes has written several books, run 50 marathons in 50 states in 50 days, run a marathon in the South Pole, without snowshoes and where the temperature was 13 degrees below zero. He also ran from Los Angeles to New York City to benefit Action for Healthy Kids® and won the Badwater Ultra Marathon, which is 135 miles across Death Valley in a balmy 120 degrees.

TIME magazine named him as one of the "Top 100 Most Influential People in the World," Men's Fitness hailed him as the fittest man on the planet and he was the winner of the 2008 ESPY Award for "Best Outdoor Athlete".

Impressed yet? I was.

But what made me literally tear up was watching videos of runners inspired by him, like the woman who heard Dean was running 50 marathons in 50 days and decided that if he could do that, she could run one marathon after gallbladder cancer surgery within the year. Or when Dean finished the Lincoln, Nebraska marathon with 1st time marathoner Sarah who claimed, "He's like pretty much my hero." Or when Dean pushed his former training buddy, who now suffers from Lou Gehrig's disease, in a wheelchair through parts of a marathon he ran in San Francisco.

But perhaps what touched me most was when Dean wrote in his blog "Yet, the most endearing race of my life wasn't a 100-mile conquest in Namibia or Asia, it was a pedestrian 10K race, a mere 6.2 miles." Why you ask? Because, as Dean explains, "...lined up next to me was my daughter Alexandria, who had just turned 10 years old. We were here together to run a 10K in celebration of her 10th birthday."

By mile five, the run began to take its toll on the 10-year-old and her struggle was almost too much for Dean to bear. Just as he was about to tell his little girl how proud he was that she had "the courage to have tried," she said "Daddy, I'm going to make it." From that moment, Alexandria's race became a mad dash to the finish line with her Dad a few steps behind and the crowds cheering this new, young runner on. With the finish line in site, Alexandria turned back to her Dad and said, "C'mon Dad, take my hand, let's go through the finish together." And so with tears streaming down his face he took her hand and did just that.

A man of many astounding accomplishments garnered across the world, and yet his most cherished is that day in Northern California when he ran a pedestrian 10K with his daughter.

Dean Karnazes is an ultra marathoner, author, husband, but most proudly, a father — and truly an inspiration to all.

Check back here on our RunPhones blog for more inspiring stories of "everyday" runners in the weeks and months to come.

AcousticSheep LLC © 2022 All Rights Reserved.