AcousticSheep's Trip to Sam's Club's "30 Minutes to Win It" Event March 2015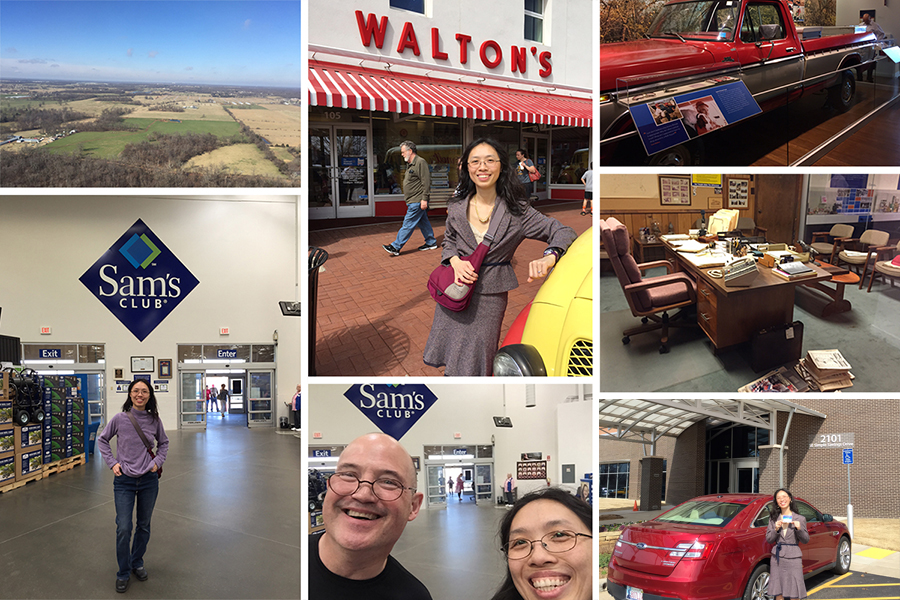 March 8, 2015

Sam's Club's "30 Minutes to Win It" Event

Sam's Club's 30 Minutes to Win It Event is a way for small vendors to get in front of some of the most important buyers in the world to get a YES or NO answer on the spot. It started in 2014 and saw tremendous success so they repeated the event in March 2015, when we attended. Due to the success of the platform, they are repeating it more often going forward. Here is our experience and some tips for the Event.

The Trip

My sales director and I traveled to Bentonville, AR on March 16 to pitch to Sam's Club. We were invited to the second "30 Minutes to Win It" event when some buyers stopped by our booth just before CES (the International Consumer Electronics Show in Las Vegas) started in January. The "30 Minutes to Win It" event is the largest event Sam's Club puts on to invite small businesses with innovative products.

We flew down to the XNA airport - Northwest Arkansas Regional Airport, which is the largest airport in the area with commercial flights and about a dozen gates. For a small airport, it was quite nice. We then drove 30 minutes through farms and pretty rural areas to get to Bentonville. It was surprisingly flat land, compared with where I grew up in Tennessee. I can see why Sam Walton (founder of Wal-Mart and Sam's Club) would consider himself more of a mid-westerner rather than a southerner. If you looked closely wherever you were, there were plenty of tornado shelters.

Bentonville is a beautiful town. There are obviously plenty of tourists with money, likely brought in by Wal-Mart and Sam's Club, given the quality and the style of the restaurants. The roads downtown are paved with brick at the intersections, and there are plenty of upscale shops and food. The original Walton's 5-10 store is located downtown, right across from a small park. It has now been converted into the Wal-Mart museum, with free admission. There's an ice cream stand to give the modern town an old-fashioned style. I bought and read Sam's paperback autobiography during the trip.

The first night, they hosted everyone in a large auditorium to teach us the Sam's Club philosophy, what to expect the next day, and participate in the Sam's Club cheer. Then there was an hour for networking and asking more questions. We were able to talk further to buyers in our category.

Unfortunately, we weren't allowed to take pictures of the inside of the Sam's Club headquarters, affectionately known as Sam's Club Home Office. As soon as you walked in, there was a desk for registration and security. They didn't check bags, but I'm sure you wouldn't be able to just sneak in. There was a coffee shop on the right, with some small offices where we did our pitches. On the left was a big auditorium. In the center back, there was a large staircase that took you to the rest of the offices upstairs. It was a bright, cheerful place with lots of history, mottos, and inspirational quotes decorating the walls.

They invited a lot of different people from a few different events, not just CES, because there was a wide variety of gadgets being presented. They were looking for something cool and new that they can bring into Sam's Club for a limited time promotion.

The Pitch

The next morning, we were scheduled for an 11am presentation. Our slide show should have worked, but we didn't know how to set up the TV. Maybe it needed to be set on a particular channel or something? But for a 30 minute presentation, we didn't want to spend 5 minutes on a technical problem. So we had to wing it with our computer and the slide handouts that we had prepared.

We had 8 people in our room, including some higher-ups. It was pretty low key, but they asked hard questions about competition, pricing, and how we bring value to their customers. They clearly did their homework. They knew the breadth of the category, the specifics of the products, and how the items may fit into their stores. They just wanted to see the product in person and check out the people behind the brand. They listened to the sound quality, took out the speakers to see the quality of our components, and wore the headbands to evaluate comfort. They kept all of the samples we brought. They declared our headphones the best executed (quality, packaging, pricing, etc.) compared with all of our competition. (We knew there was competition because our main competitor was practicing their pitch during breakfast at our hotel!)

The reason Sam's Club implemented this event is to have a quick, systematic way of evaluating, educating, and bringing on new vendors of all sizes. They promised to make a quick decision, during the pitch, and they did! Toward the end of 30 minutes, they said we're in!

Prior to the event, we started to fill out some paperwork that's routine for all Wal-Mart and Sam's Club products. The two stores share some of the back-end logistics like vendor numbers and set up forms. The questions are all quite routine for large companies that need to do their homework, including insurance requirements and DUNS report.

What Worked

They were impressed primarily with the quality of the product. Sam's Club is interested in bringing the best products in a category and working with quality brands that can elevate their store. At the same time, they are not afraid of trying out new products from well-organized small businesses that don't yet have national brand recognition. So if you have a great product and enough marketing support to work with Sam's, then go for it!

Being prepared to defend our product against the competition was also crucial. Not just talking about the superiority of the product features and benefits, but being able to say that we have a manufacturer's warranty, a trained customer service department, fulfillment from the US (rather than overseas), and a marketing staff that can work with the buyer to optimize in-store presentation. If there are any issues, we can take responsibility to help fix problems. You can't just drop products into the store and walk away. It's about teamwork.

As the CEO, I don't go out on a lot of sales calls. I have a lot of other responsibilities. But the fact that I showed up to make the presentation probably also reflected well upon our organization's dedication to working closely with Sam's Club. In fact, it's the largest single sale we've made to date, so yes, it was worth my time to attend.

Perhaps the most important point is being able to present the value proposition to the buying team. The value proposition is for the end-user, the consumer, not necessarily to Sam's Club. Sam's Club has it right — their customer is King. Whatever deals they negotiate is ultimately to pass on savings and value to their customer. That's really the goal of any business — value for the customer. So while they negotiated hard with us on the numbers, they were just watching out for the interests of their customer. Understanding that, you can be prepared to speak their language when you present your numbers. Since we aren't a nationally recognized brand, we have limited clout. We added value, took a price cut, and sealed the deal.

The Sale

Getting a YES from the 30 Minutes to Win It event was just a first step in a long series of steps. There are forms the fill out, computer hurdles, design processes, repackaging, and numerous other investments before the product reaches the stores. Sam's was a top priority throughout our organization, so everything was fast-tracked through every department. Even our vendors were eager to push our project forward, since they were excited for us. Our products will be in stores at the end of August — five months after the initial YES!

Q&A

What was the most interesting/unexpected thing you learned about Sam's Club during your trip?

The most interesting thing we learned was how Sam's Club found the selfie stick during last year's "30 Minutes to Win It". One store manager said that they put out 2 pallets of it and by the end of the weekend, they were gone. I was pleasantly surprised to see plenty of women and minorities in positions of leadership. Plus, they were really open to new ideas and products to keep their company at the cutting edge.

When can we expect to see your products in Sam's Club?

August 25th!

How many Sam's Club stores will carry your products? All of them or just stores in a particular region of the country?

We will be in about 300 stores in the US. There are over 600 Sam's Club stores. Some are overseas, including lots in Puerto Rico, Brazil, and even China.

Will you have to modify your packaging at all before you can begin selling in Sam's Club? i.e. Do they want you to sell your products in a two-pack?

While Sam's Club's well-known M.O. is to sell large packs of stuff, like 64 tubes of paper towels, 40 batteries, and 2 pounds of strawberries, they mostly do that for items that they carry throughout the year. For electronics, mattresses, and clothing, they recognize that most people really only need one piece. So they would only sell you one kid's swing set for example, but at a really good price. If you don't buy it on one trip to Sam's Club, it might sell out and be replaced with lawn mowers. They want to train their customers to buy that swing set on impulse — because it may not be there the next time they visit. One theme we heard was "More newness, more often."

Update - 303 Stores

June 29, 2015

We will be in these 303 Sam's Club stores carrying RunPhones, sorted by state then city.

AcousticSheep LLC © 2022 All Rights Reserved.